Firm Profile
Serving Clients for 100 Years
Maintaining the highest possible standards of professional integrity and competence has been the foremost goal for Reno & Zahm LLP since our founding in 1923. In the 100 years our firm has existed, our attorneys have met this challenge head-on by focusing on our clients' perspectives and offering realistic and innovative solutions in timely and effective manners.
The substantial breadth and depth of our combined expertise equip us to handle the most challenging legal issues providing comprehensive legal services over a wide range of practice specialties. All of our attorneys possess an unwavering dedication to excellence that's singularly focused on delivering the results clients expect and deserve.
At Reno & Zahm we actively represent a diverse client base, including public and private businesses and organizations, as well as individuals.
For more information about how we can assist you, schedule your initial consultation by contacting us online or calling (779) 235-9115.
Community-Oriented Attorneys

100 Years of History as a Firm

Wide Range of Legal Services Available
Our FAQ
Frequently Asked Questions
Have questions? We are here to help. Still have questions or can't find the answer you need? Give us a call at 779-235-9115 today!
I was injured three years ago. Can I still file a personal injury claim?

Your claim is likely to be rejected because it surpasses the statute of limitations by a year. In Illinois, you have two years from the date of the incident that caused injury to file a personal injury claim.

How much money can I get (or will I owe) from a personal injury award?

Court awards are unpredictable and there is no reliable way to realistically project what your outcome will look like, or if you'll even win. That said, you can approximate the value of your award or liability for a 

personal injury

 by totaling applicable losses and multiply it by any value between one and five. The more severe your injury, the greater the multiplier you use. This is only a rough estimate and meant only to offer plaintiffs an idea of what the best-case scenario could look like.

What's the difference between a will and a trust?

Generally speaking, the difference is whether or not you want to avoid probate. This is the process of dividing someone's estate through court proceedings. The estates of people who die with a will – or without any type of estate planning – undergo the probate process, which can incur additional court and attorney fees.

Trusts, although sometimes costly to set up and fund, can avoid probate by transferring an estate to a trustee under certain circumstances, not all of which require the death of the estate's owner. There may also be tax incentives for choosing a trust.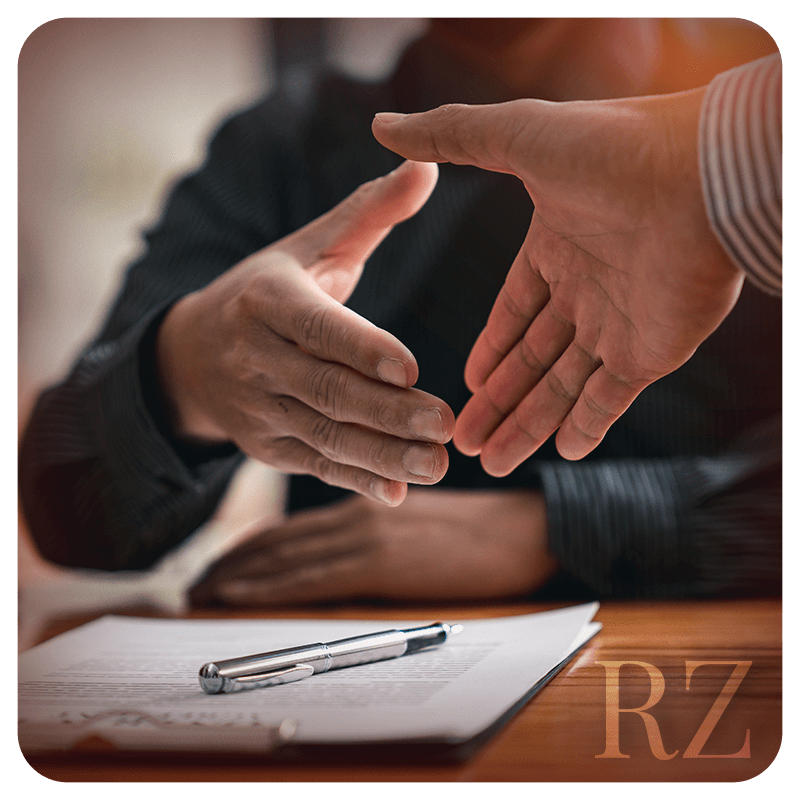 Proudly Offering 100 Years of Dedication
At Reno & Zahm we actively represent a diverse client base, including public and private businesses and organizations, as well as individuals.
The proof of our success is in our very existence: Few law firms can boast 10 decades of distinguished and valued service to their communities. We've set ourselves apart from the rest through the quality of our work and the character of the attorneys who have guided our firm throughout the modern era.
Reno & Zahm had its start in 1923 when two young assistant State's Attorneys, Shelby Large and Guy Reno, decided to hang out their shingle and formed Large & Reno. With its first office in the Swedish-American National Bank building, Large & Reno established roots by representing factory workers in the Swedish-American community. From the beginning, and in the decades to follow, the firm had extended hours into the evenings and Saturdays to accommodate the factory workers, many of whom waited their turn while sitting on the steps in the stairwell of the Swedish-American National Bank building. Fortunately for the firm, many of those factory workers went on to become community leaders and found some of Rockford's most prominent businesses.
1932 marked a seminal change for Shelby & Large. Ralph Zahm joined the firm, which was shortly thereafter renamed Large, Reno & Zahm, and both Shelby Large and Guy Reno were elected to the Board of Directors of Swedish-American Bank. These changes afforded the firm the opportunity to expand beyond civil trial practice into corporate and business law, and estate planning. In the decades to follow, Large, Reno & Zahm was home to many prominent attorneys, including John B. Anderson, who later became a United States Congressman and candidate for President in 1984. For over two decades, the firm offices were located in Camelot Tower, moving to Perry Creek Plaza in 2002.
As Reno & Zahm enters its second century, we remain committed to providing superior legal representation and counsel to all our clients in the northern Illinois and southern Wisconsin area.
To discover how our firm can make a difference in your case, contact Reno & Zahm LLP online or call (779) 235-9115.